Our 4th ENGLISH Learning Centre is located at Taman Mount Austin!!
Contact us today and take a FREE test to ascertain your level of English proficiency.
你在为英语不流利而烦恼吗? 或没有信心开口说英语?
用对方法,原来掌握英语也不难~
我们的英语会话课程除了着重于学员们在英语沟通会话方面的加强,也兼顾学员在于聆听与理解、发音训练、词汇、书写等等方面的运用哦~ 轻松的全英语环境让学员围绕各种有趣的课题进行讨论和运用的训练,让您在互动的环境中提升英语会话自信!
程度分班:

基础 ➠ 初级 ➠ 中高级班

班级人数:

小班制教学 (Maximum 9 位)

学院地点:

7-02, Jalan Mutiara Emas 2A, Taman Mount Austin, 81100, JB.

上课时间:

早、午,晚及周末班 ( 通过网络订课系统自由安排课程时间 )

课程内容:

轻松有趣地让学员融入课题讨论,加强词汇理解运用、模拟各式实用课题对话、临场表达沟通能力、聆听与灵活运用英语、书写技巧、发音训练、演说等等...
*首先必须先通过一次 FREE 的英语程度测试,等评估的结果和了解语言上的弱点,才能安排课程喔*

---
TOUCH LEARNING MOUNT AUSTIN ENGLISH CENTER
Our General English course focuses on improving your all-round English and in particular your communication skills. Our focus is on students interacting and communicating with each other and getting you to use the language you learn to make you more fluent and confident in English.
Class schedules are flexible and you can book the classes that suits your timing. This course is ideal for working adults / students who can only study on weekends and after working hours.
---
Levels Offered:Beginner to Intermediate Levels
Course Length:3 months to 1 year
Class Duration:1 hours & 30 minutes per class
Class Size:Maximum of 9 learners per class

Key Features of this Course:
We adopt 100% titles from the OXFORD University Press which has been specially designed for learners to learn and improve English as a Second Language. Covering global and interesting topics, this helps inspire learners to learn English and enhance general knowledge through presentations and debates. Authentic audios will also be given to learners, to feature both native and non-native speakers, this help builds learners' ability to understand the natural English of international speakers.
To sum it up in simple points, our General English Course is designed for learners to learn and covers the necessary major English language skills, which will:
⇒ Focus on Listening, Reading, Speaking & Writing Skills
⇒ Encourage and Improve Grammar, Vocabulary & Response Capability
⇒ Cover Presentations, Role-Plays and Debates Skills
⇒ Learn features of English Stress & Intonation Patterns
---
TOUCH LEARNING MOUNT AUSTIN LOCATION: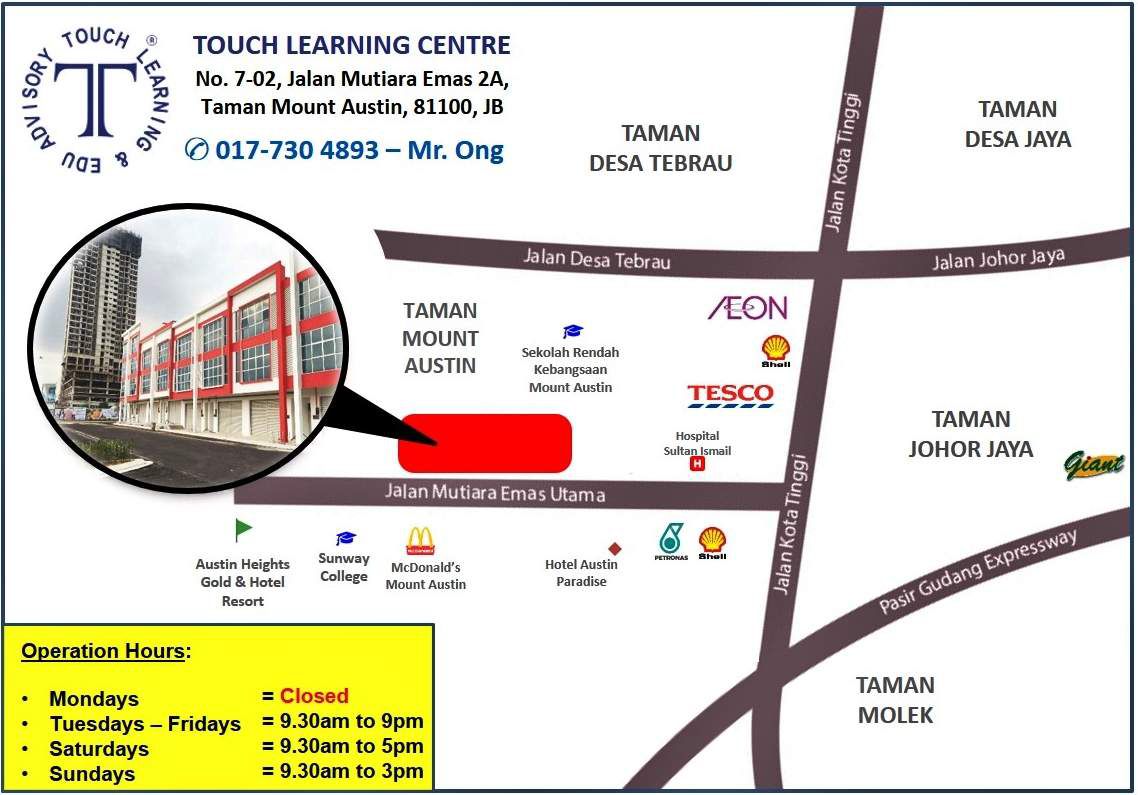 Visit/ Call us today and take a FREE assessment test to ascertain your level of English proficiency, so that we will know which level of English best fits for your needs.
Touch Learning Centre - ( Mr. Ong )
Tel : ✆ 017-730 4893
Email : touchedu02@gmail.com
---