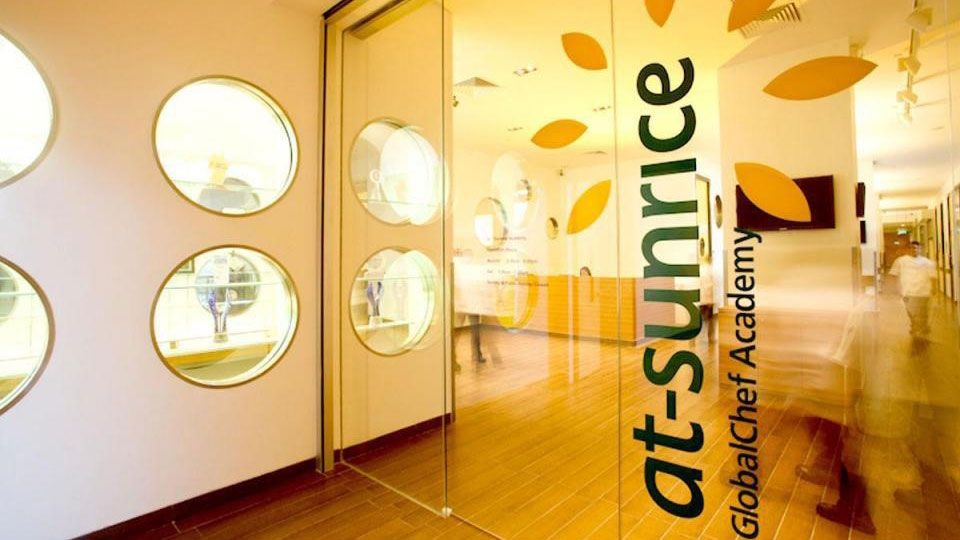 General background
At-Sunrice GlobalChef Academy in Singapore was conceptualized in 1999 by founder Dr Kwan Lui and started its operations in 2001 with the aim of being an Asian Culinary Academy. By 2004, At-Sunrice has expanded its vision to embrace both Asian and Western cuisines. T
he Academy imparts skills and knowledge in East and West, Old World and New World cuisines, herbs and spices, innovation and technology. A synchronised study-apprenticeship rotation enable the students to expand their horizons beyond the classrooms, maximising their employability and preparedness for careers as global chefs and F&B professionals upon graduation.
The environment
At-Sunrice GlobalChef Academy is located at 28 Tai Seng Street, Singapore. The academy employs cutting edge technologies to boost productivity at its new premise and showcases a repertoire of industry standard kitchens, equipment, tools and software. It conceptualized and implemented three distinctive kitchens, all of which are firsts in the culinary training industry. Ever since its establishment in 2001, At-Sunrice GlobalChef Academy has been renowned for its iconic SpiceOdyssey™ experience which brings participants on a thrilling discovery into the world of natural spices used in global cuisines.
Pros
Currently t
he academy is EduTrust certified and is recognized by the Singapore Workforce Development Agency (WDA) as a National CET Institute (NCI) administering nationally-recognized diplomas.
It has also signed degree articulation agreements with renowned educational institutions including Johnson & Wales University (USA), the University of West London (UK), Technological and Higher Education Institute of Hong Kong. Students can choose from a range of degree and nationally-recognised diploma, certificate, modular, assessment-only-pathway (AOP) and continuing education modular programmes suitable for their level of experience and commitment.
背景资料
自
2001
年起,香阳环球厨师学院
(At-Sunrice GlobalChef Academy)
不断地栽培具有国际水平的厨师及餐饮业专业人士。香阳环球厨师学院不但提供良好的学习环境、恰当的实习机会,更让学生从中体验精湛的厨艺与创意激荡。新加坡香阳环球厨师学院教育融合了东西方烹饪研究、传统与现代烹饪方法,香草及香料,严格奉行学习和实习相结合的教学课程保证每一位学生在学院的教学体验。每年
6
月的最后一个星期三,新加坡香阳环球厨师学院都将举办人才配对招聘
TalentMatch©
,烹饪与食品服务行业的明日之星将在这里诞生。作为新加坡唯一的烹饪行业招聘会,学院以"最佳适配"理念吸引了许多国际招聘公司和烹饪雇主来此招聘机智、有抱负的明日环球厨师。
学习环境
香阳环球厨师学院拥有由来自
10
个国家阅历广泛的指导厨师以及
40
多名来自美国教授和指导厨师,教授学生世界级的烹饪艺术教育。该学院也招收来自超过
30
个国家及地区的学生,学习东西方的烹饪文化,探索香草料的奥妙以及传统与现代的饮食文化。香阳环球厨师学院实行的一周课堂教学,二周餐厅实习的轮换模式课程,使学生可以拓展视野,不局限于课室的知识,并且在毕业后可以迅速成为积极进取的专业人士。通过严谨的学习和实习同步循环的课程,该校每年可向当地餐饮业提供
75
万多工时,提高了学生在课堂学习之外的就职经验,并且培训他们成为行业精英。
学校特色
香阳环球厨师学院是新加坡第一家获得国家继续教育培训机构

(
National Continuing Education Training Institute, NCI)
颁发认证的厨艺学院。它已连续三年夺得年度最佳厨艺学院奖

(
2008
,
2011
及
2013
年)

,并于最近在世界美食峰会中获颁
2014
年最佳餐饮业奖。除此之外,香阳环球厨师学院还向杰出的烹饪界专业人士颁奖。这些获奖者在他们的职业生涯中展示出了技巧上的才能以及对烹饪知识的全面了解。同时,他们也是年轻厨师们的导师。香阳环球厨师学院在每年
4
月召开世界美食峰会期间颁发
GlobalChef
奖。现已有
27
人获得
GlobalChef
的奖项。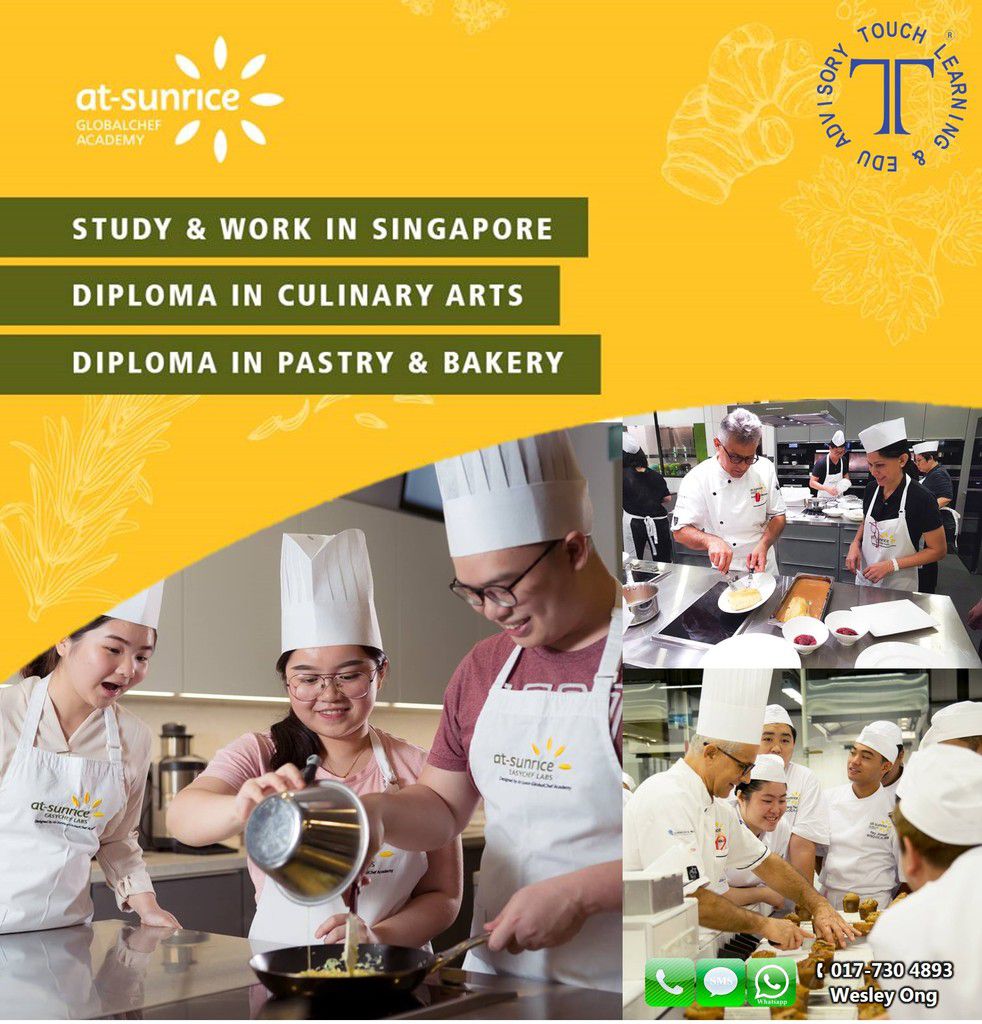 _________________________________________________________________________
想要了解更多关于 At-Sunrice GlobalChef Academy的课程资料吗?
我们提供学生们免费的升学辅导哦~
欢迎前来Touch Learning升学中心询问详情!
● 90B, Jalan Sutera Tanjung 8/4, Taman Sutera Utama, 81300, Skudai, JB.
● Level 13, Public Bank Tower, Jalan Wong Ah Fook, 80000, JB.
● 205A, Jalan Kenanga 29/2, Indahpura, 81000, Kulai

Touch Learning Centre
Tel : +6017-730 4893 (Mr. Ong)
Email : touchedu02@gmail.com

​